As Seen on The Ellen Show
In addition to Mayacamas Ranch, we offer accommodations at luxury homes through Mayacamas Ranch Homes. These one-of-a-kind properties provide an awe-inspiring setting for a variety of gatherings including corporate and non-profit retreats as well as adult and family group experiences, offering unprecedented beauty and tranquility. With magnificent views and stocked with everything you need to relax as well as comfortably entertain, our homes –  each unique and luxurious   – have it all.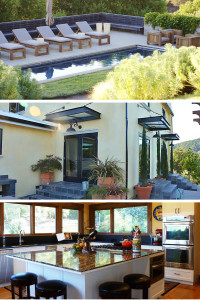 Mayacamas Ranch Homes are managed by Paradise with Purpose, the hospitality group that oversees Mayacamas Ranch Retreat and Conference Center situated next to the Homes. Mayacamas Ranch is Northern California's premier exclusive-use group retreat center located in Calistoga. Located in a natural and luxurious setting, the ranch and its homes are designed for deep renewal, reflection and connection to self, friends, family and the groups we are connected to. Paradise with Purpose has been hosting group experiences at Mayacamas Ranch for nearly a decade, with the focus on mind-body experiences led by leading yoga, meditation and bodywork experts. You'll receive personalized pre-trip planning assistance from our dedicated staff to help customize your stay. We look forward to hosting you or your group in our nurturing and rejuvenating places.
A unique array of amenities, activities and programs
Our Paradise with Purpose experiences feature a host of well being experiences and special features including hiking, swimming, canoeing, bocce ball, wine country tours, yoga, massage and other mind-body modalities. Both homes include organic mattresses and bedding — similar to what's offered at Mayacamas Ranch — an amenity widely appreciated by our guests.
Find out more
For more information go to www.mayacamasranchhomes.com or for booking and reservations, visit our current homes here: Wine Country Mediterranean Getaway and Private Modern Luxury Retreat.