Sometimes the best way forward is to retreat
With exceptional facilities for large or small group events, Mayacamas is equipped to service all types of corporate and non-profit meetings. Year after year we hear from our clients that the best way forward is to retreat at Mayacamas.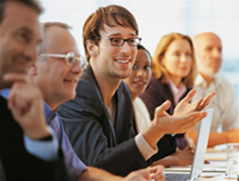 While the Ranch is conveniently located less than 80 minutes from the Bay Area and Sacramento, guests enjoy the benefits of the privacy, views and quiet that Mayacamas offers.
With its expansive grounds, multiple meeting spaces, comfortable guestrooms, and local, organic food program, Mayacamas Ranch offers a professional, warm and inviting venue for business retreats, board meetings, trainings and workshops. We welcome non-profit groups with a special rate.
Mayacamas Ranch and its staff are committed to making your meeting productive and successful. Corporate retreat customers include Apple, Bank of America, EBay, Genentech, Comcast, Wells Fargo, Medtronic, Oracle, Gap, Inc., Santa Rosa Chamber of Commerce and other leading Fortune 500 and Bay Area businesses.
Facilities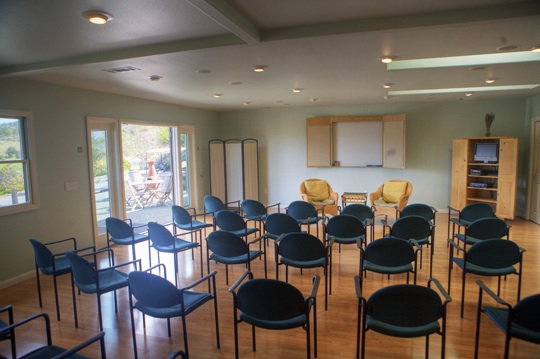 Mayacamas Ranch offers many common areas and a wide range of facilities to accommodate meetings large and small. For larger groups meeting at the Ranch, we can present a variety of lodging options at nearby venues to best accommodate your group.
Our organic beds are a signature, eco-friendly feature of the Ranch. They were made exclusively for Mayacamas Ranch and feature the purest line of organics available.
Chapparal Lodge is our largest conference center. It features:
1,400 sq. ft. conference room
Video projection and sound systems
An intimate sitting area with fireplace
DSL Internet and wireless access
Grand piano
1,000 sq ft deck overlooking garden and western panorama
Indoor and al fresco dining on the Chaparral terrace
Live Oak Lodge is a lovely one and one-half level lodge, ideal for "break out" sessions. It features a 400 sq. ft. living room, kitchen, fireplace, video and sound systems, patio and five guestrooms with private baths. Guests can enjoy catered meals in the indoor dining area or on the patio.
Rock Rose Center is a 700 sq. ft. conference room with hardwood floors, private bathroom/spa shower, skylights and separate outdoor entrance. It can be configured for a wide variety of gatherings, from 30-person theater-style meetings to 15-person activity groups.
The Sunrise Garden and Deck is the ideal outdoor space for stimulating fresh thinking. Perfect for outdoor receptions, parties and barbeques, the Garden features a fountain, gravel pathways, and seating for contemplative moments surrounded by beautiful flowers and a variety of organic vegetables. The deck is located by the main dining room and can be used for outside seating.
Mayacamas Ranch has guest units situated in various buildings on the property. We accommodate both double and single occupancy and the majority of units have private baths. All beds and bedding at Mayacamas are 100% percent organic. Each unit has its own temperature control system for your comfort.
To review your group's needs or request an estimate based on your specific requirements, please contact our event staff directly at 707.942.5127 or email info@mayacamasranch.com. You may also fill out our brief Information Request Form.
We look forward to welcoming you to Mayacamas Ranch, a GeneroCity Resort.