Swimming and Soaking
Surrounded by 360 degree views of Mt. St. Helena and the Mayacamas Mountains, take in some of the most breathtaking views in the wine region while lounging and swimming in our salt water pool. Swimming in a mild saline solution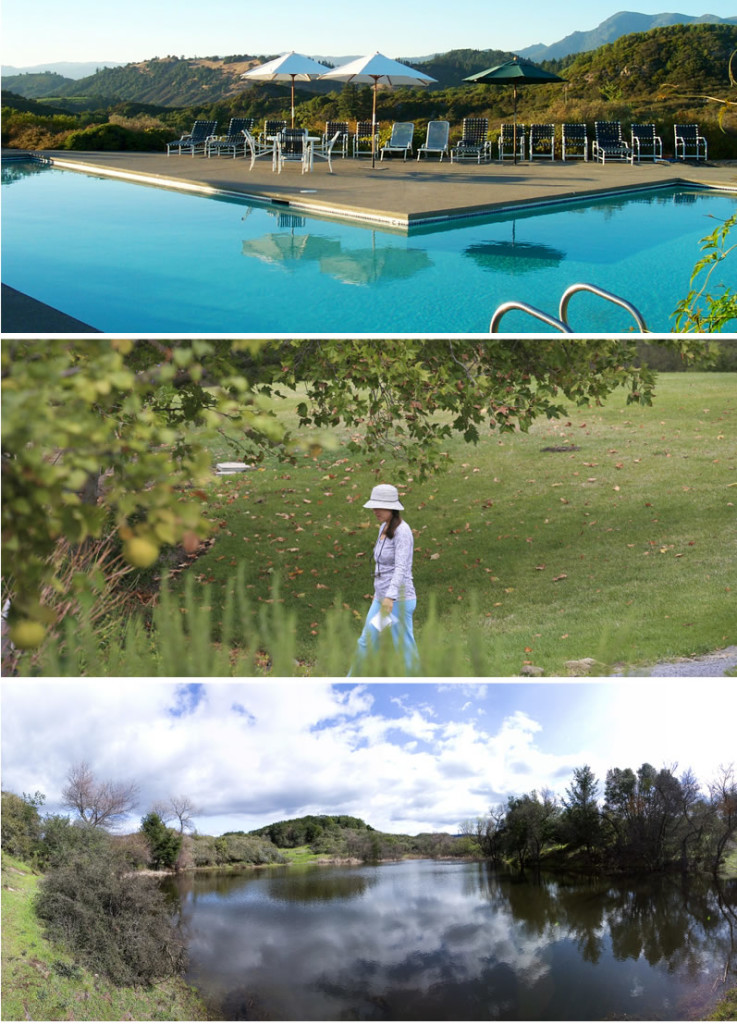 is much like taking a shower in soft water…. In a salt-water pool the water feels smooth, your skin feels smooth, and many people feel more refreshed. Festive gatherings can also be arranged poolside.
Soak in our relaxing jacuzzi, a perfect place to start or end your day.
Hiking
Mayacamas Ranch hiking trails range from easy to intermediate and wind through chaparral, fragrant bay and madrone forests, and a natural spring.
Fishing
Our exclusive, secluded Hidden Lake features a picnic area and hiking trails. Fishing for bass in the lake is also permitted so long as it's catch and release.
Campfire
Mayacamas Ranch was once a gathering center for the Wappo Native Americans where they conducted ceremonies, rituals, and rites of passages. Our staff will arrange all the kindling and supplies for you.
Games
Our expansive lawn, surrounded by breath taking views, becomes the perfect setting for all types of ball games, including baseball, football, badminton and volleyball. In addition, horseshoes, frisbee throwing, and kite flying are favorite activities for many at The Ranch.
Organic Garden and Sun Deck
Explore our Mayacamas organic garden, full of cutting flowers and many of the fruits and vegetables in the recipes we cook for you. Our garden is closed to outside fake nutrients (aka chemical fertilizers) and instead embraces the natural cycle or system that is contained in an organic garden. Yes, we also pay attention to the tenants of Permaculture: care for earth, people, and shared surplus. In addition, throughout the garden you will find evidence of Biointensive practices as shown by the use of our greenhouse, our efficient spacing of plants, companion planting, and our focus on soil building. The Garden is home to close to 50 raised beds for growing vegetables. In addition, it is well populated with ornamental perennial plants and fruit trees, appealing to all senses. You may also enjoy views of the garden from our sun deck off the Lodge.
Lounging Fireside in the Lodge
---
The following fee-based activities may also be arranged at Mayacamas Ranch
Massage and Yoga
Private Yoga Sessions
$300 for One Hour Instruction. Semi-Private and Group Instruction Available upon request with prior notice.